When signing up for the SAT or ACT use Warren Harding High School Code: 365-335
Guidance Department Staff
Counselor/Test Coordinator
Special Education Services
 Click on the Picture below to read the full-size PDF version of our Guidance Newsletter: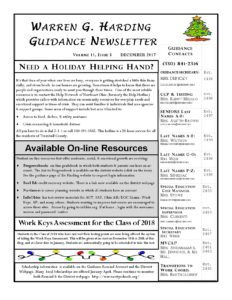 Click the links below to apply for the following Scholarships:
Otterbein University Music Scholarships.The Young Artist Scholarship at Otterbein University awards $30,000 to 5 students majoring in music. An audition is required. Click on the link for more details.
College Raptor Scholarship (January 31, 2018) Click on the link to apply for the College Raptor $2,500 Scholarship. College Raptor
YSU Powers 2017  The attached application can be returned to Guidance by Tues, Nov 28 in order for us to complete our part and send to YSU by the 12/1 deadline.  
Kent Trumbull
--4 scholarships of $750.  Judged by a writing contest with 4 categories. Students can submit to all 4 categories, if they would like.  Deadline 
January 8, 2018
Groth and Associates
---
July 31, 2018
---$1,000.  Online application with essay: Discuss difficulties or hardships you have personally overcome.  
www.grothlaw.com
Mensa Foundation- 
Jan 15, 2018
--- Online app with essay--Explain your career, academic, or vocational goals.--- -
http://www.mensafoundation.org/what-we-do/scholarships/
The Community Foundation has opened their local scholarship search site.  It is very comprehensive and many of the scholarships are quite specific, but there are many that our students will find themselves eligible for.    
B.Davis Scholarship--

May 22, 2018

---
Essay--Describe the 3 characteristics of leadership you value most.  Discuss why you believe that these traits are so important and how you feel they are developed in an individual.  $1,000.    Online application.
WACE Merit Scholarships
 (-
Feb 15, 2018)
---a co-op scholarship program for students planning to attend certain universities (Toledo and Cincinnati are on the list)  Application is online. 
VFW Young American Patriotic Art (March 25, 2018)
VFW Young American Patriotic Art---Students submit artwork that is patriotic in theme on paper or canvas.  Submit to Guidance by March 25, 2018 
Judged on scholarship, leadership, and financial need.  Up to $50,000 over 4 years.  
Awarded to children or grandchildren of current Elks members up to $4,000.  Judged on core values of the Elks National Foundation: Knowledge, Charity, Community Service, and Integrity.  Online application.
The AXA  Achievement Scholarship(December 15, 2017)
Are you active in your community?  Have you led projects that benefit others?  Have you overcome personal challenge?  If you answered "yes" to any of these questions then you may be eligible for the AXA Achievement Scholarship.  Click on the link above to learn more about this scholarship opportunity.
GFWC Ohio Warren Junior Women's League Teen Volunteer Award (January 5, 2018)
The Teen Volunteer Award scholarship is for seniors who have spent time volunteering while in high school.  Top prize is $500.  The application is attached and must be followed. The resume and letter of recommendation guidelines are specific.  Deadline is January 5 to Guidance so we can get it delivered in time. 
For the official records, credits earned determine grade level placement. Grade level placement will be determined in the following manner:
Freshman 4.75 credits and below
Sophomore 5 – 10 credits
Junior 10.25 – 16.75 credits
Senior 17 or more credits
Warren G. Harding High School Graduation Requirements:
Graduation Requirements include the specific Credit Hours  described below PLUS an assessment as also described below:
21 Total Credits:
Four (4) credits in English
One half (.5) credit of Health
Four (4) credits in Math – must include 1 unit of algebra II or the equivalent of algebra II.
One half (.5) credit of Physical Education – ½ unit requires (2) PE classes.
Three (3) credits in Science (Physical, Biology) – Science units must include 1 unit of physical sciences, 1 unit of life sciences, and 1 unit advanced study in one or more of the following sciences: chemistry, physics, or other physical science; advanced biology or other life science; astronomy, physical geology, or other earth or space science.
Three (3) credits in Social Studies (World Studies, U.S. History, Government) – Social Studies units must include 1 unit of American History and 1 unit of American Government.
One half (.5) credit of Financial Literacy (embedded in American Government course)
One (1) credit Fine Arts
Five (5) Elective Credits
Assessment Options: End of Course Exams, ACT, SAT,or Industrial Credentialing
End of Course Exams (5points available on each exam):

4 Pts from ELA I and ELA II
4 Pts from Algebra I and Geometry
10 Pts from Biology (or Physical Science for the class of 2018 only), American History, and American Government.
18 Total Points

ACT

A score of 22 in Reading
A score of 18 in English
A score of 22 in Math

SAT

A score of 480 in EBRW
A score of 530 in Math