If you are a current student at Warren G. Harding High School and need your transcripts, click here for directions on how to obtain them through Naviance.
If you are a past student please call the guidance office at 330-841-2316 ext. 2488 for assistance in retrieving your transcripts.
SAT/ACT TestWhen signing up for the SAT or ACT use Warren Harding High School Code:
365-335
Guidance Newsletters
Click on the Links below for a full PDF version of the W.G.H. Guidance Newsletter: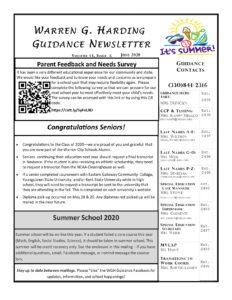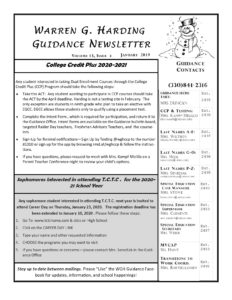 *Within 5 years, could make $38.63/hour AND get paid while you train!
*Could earn a debt-free college degree while training!  
Cement Masons and Plasterers Apprenticeship—They often will work with you, even if you don't have a diploma yet!   Can earn $26.68 hourly plus benefits upon completion of the apprenticeship.   
Are you interested in Joining the Military after graduating?  Click here to read about the steps you must take if you want to enlist
Read about the different careers available through the military. 
Click on the links below to learn more about the Scholarships offered to the Class of 2020: 
El Dabe Ritter Scholarship 
*$1,500
*3.0 GPA
*Online application due June 30
There are many forms used by our Guidance Counselors when assisting students.  Copies of these forms are available in the Guidance Office (3104) as well as in PDF form below:
Guidance Department Staff
Counselor/Test Coordinator
Special Education Services
Supervisor of Special Education
Special Education Secretary
For the official records, credits earned determine grade level placement. Grade level placement will be determined in the following manner:
Freshman 4.75 credits and below
Sophomore 5 – 10 credits
Junior 10.25 – 16.75 credits
Senior 17 or more credits
Warren G. Harding High School Graduation Requirements:
Graduation Requirements include the specific Credit Hours  described below PLUS an assessment as also described below:
21 Total Credits:
Four (4) credits in English
One half (.5) credit of Health
Four (4) credits in Math – must include 1 unit of algebra II or the equivalent of algebra II.
One half (.5) credit of Physical Education – ½ unit requires (2) PE classes.
Three (3) credits in Science (Physical, Biology) – Science units must include 1 unit of physical sciences, 1 unit of life sciences, and 1 unit advanced study in one or more of the following sciences: chemistry, physics, or other physical science; advanced biology or other life science; astronomy, physical geology, or other earth or space science.
Three (3) credits in Social Studies (World Studies, U.S. History, Government) – Social Studies units must include 1 unit of American History and 1 unit of American Government.
One half (.5) credit of Financial Literacy (embedded in American Government course)
One (1) credit Fine Arts
Five (5) Elective Credits
Assessment Options: End of Course Exams, ACT, SAT,or Industrial Credentialing
End of Course Exams (5points available on each exam):

4 Pts from ELA I and ELA II
4 Pts from Algebra I and Geometry
10 Pts from Biology (or Physical Science for the class of 2018 only), American History, and American Government.
18 Total Points

ACT

A score of 22 in Reading
A score of 18 in English
A score of 22 in Math

SAT

A score of 480 in EBRW
A score of 530 in Math