Attention WGH students who plan on attending a college or trade school -Click here to read about and apply for scholarships!  You may also scroll down to the bottom of this page for direct links.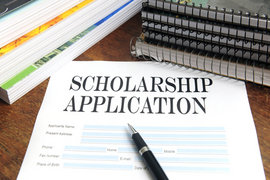 When signing up for the SAT or ACT use Warren Harding High School Code: 365-335
Guidance Department Staff
Counselor/Test Coordinator
Special Education Services
 Click on the Picture below to read the full-size PDF version of our Guidance Newsletter: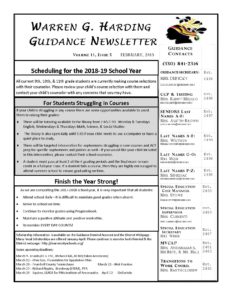 January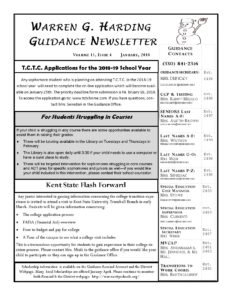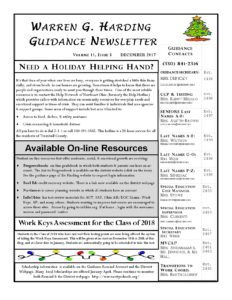 Click the links below to apply for the following Scholarships:
The Mahoning Valley Credit Union Outreach Alliance Scholarship is now taking applications.  Students only need immediate family who are members of a local credit union in good standing.  
Due March 26 to Guidance. 
*For residents of Trumbull County
*Minimum GPA 3.0
*Must be pursuing a degree or certification in a healthcare field
*Awards vary
*For residents of the Mahoning Valley
*Students pursuing a degree in nursing
*Minimum GPA 3.0
*May be renewable
*Women residing in the Mahoning Valley
*Planning to attend (or already enrolled in) YSU, KSU (regional campuses), or EGCC
*May attend full or part time
*$1,500
*Must have Type 1 insulin dependent diabetes
*Resident of Mahoning, Trumbull, or Columbiana Counties
*Minimum GPA 3.0
*$1,000 renewable
*3.0 minimum GPA
*Open to students studying MANY types of majors, not just STEM.  The list is in the attachment.
*$1,000 renewable
*2.5 minimum GPA
*Student should state that they plan to work in the crude oil and natural gas industry
Tom Holden Memorial Scholarship 
*Students write a 30 second PSA for a local non-profit organization chosen from the list on their website.  
*$1,500
*Part of the OH-MI Assoc of Career Colleges and Schools "LEADS" application
*Planning to study Aviation Maintenance Technology
*$1,000
*Must have a community or civic leader sign the nomination form
*Awards vary, but last year was $6,250 to 20 students
*Financial need is considered
TCESC (March 6)The following Trumbull County Educational Service Center scholarships are now open using the one attached application.  All applications must be returned to Guidance by March 6.
~~Loren Hunter---WGH seniors only
~~Marae Ohl--Ten nonrenewable $1,000 awards are available.  Financial need is a factor.
Lee J. Brockway Scholarship (March 30, 2018) $1,000.  Application must be submitted via email to the address on the application.  It is intended for seniors going into engineering, construction management, architecture, facility planning, etc.  There is an essay requirement.  Deadline 3/30  
Wolves Club (March 6) for any senior in Trumbull County showing academic proficiency (no minimum GPA).  Maybe be asked to interview and demonstrate financial need.  Due to Guidance March 6. 
OSU Alumni scholarship (January 24)   If you are planning on attending The Ohio State University, check out this scholarship opportunity. Follow the directions listed in the link above.  Turn application in to guidance by January 24th.
Otterbein University Music Scholarships.The Young Artist Scholarship at Otterbein University awards $30,000 to 5 students majoring in music. An audition is required. Click on the link for more details.
 Groth and Associates---July 31, 2018---$1,000.  Online application with essay: Discuss difficulties or hardships you have personally overcome.  www.grothlaw.com 
VFW Young American Patriotic Art (March 25, 2018)
VFW Young American Patriotic Art---Students submit artwork that is patriotic in theme on paper or canvas.  Submit to Guidance by March 25, 2018 
Judged on scholarship, leadership, and financial need.  Up to $50,000 over 4 years.  
Awarded to children or grandchildren of current Elks members up to $4,000.  Judged on core values of the Elks National Foundation: Knowledge, Charity, Community Service, and Integrity.  Online application.
For the official records, credits earned determine grade level placement. Grade level placement will be determined in the following manner:
Freshman 4.75 credits and below
Sophomore 5 – 10 credits
Junior 10.25 – 16.75 credits
Senior 17 or more credits
Warren G. Harding High School Graduation Requirements:
Graduation Requirements include the specific Credit Hours  described below PLUS an assessment as also described below:
21 Total Credits:
Four (4) credits in English
One half (.5) credit of Health
Four (4) credits in Math – must include 1 unit of algebra II or the equivalent of algebra II.
One half (.5) credit of Physical Education – ½ unit requires (2) PE classes.
Three (3) credits in Science (Physical, Biology) – Science units must include 1 unit of physical sciences, 1 unit of life sciences, and 1 unit advanced study in one or more of the following sciences: chemistry, physics, or other physical science; advanced biology or other life science; astronomy, physical geology, or other earth or space science.
Three (3) credits in Social Studies (World Studies, U.S. History, Government) – Social Studies units must include 1 unit of American History and 1 unit of American Government.
One half (.5) credit of Financial Literacy (embedded in American Government course)
One (1) credit Fine Arts
Five (5) Elective Credits
Assessment Options: End of Course Exams, ACT, SAT,or Industrial Credentialing
End of Course Exams (5points available on each exam):

4 Pts from ELA I and ELA II
4 Pts from Algebra I and Geometry
10 Pts from Biology (or Physical Science for the class of 2018 only), American History, and American Government.
18 Total Points

ACT

A score of 22 in Reading
A score of 18 in English
A score of 22 in Math

SAT

A score of 480 in EBRW
A score of 530 in Math