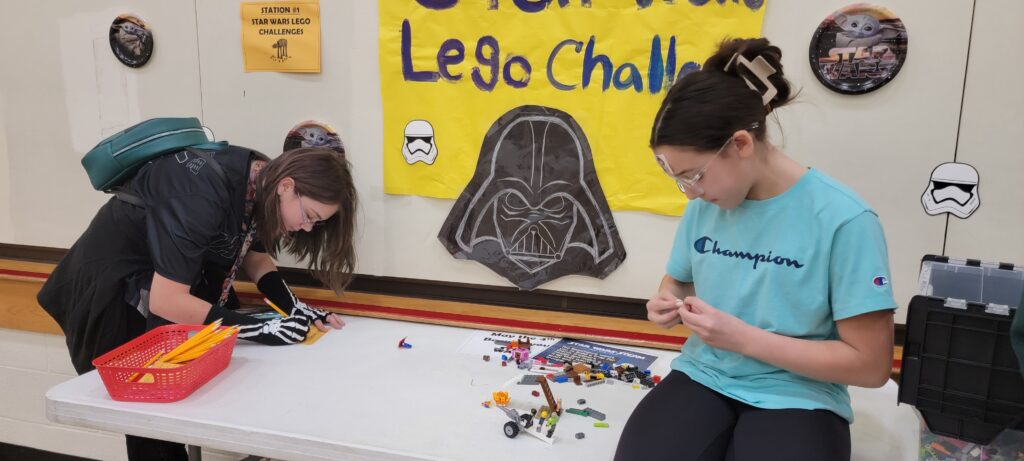 Jumping Jacks. Bowling. Legos.
Sixth-grade students at Lincoln PK-8 School spent some time Wednesday, May 4, in the small gymnasium participating in a variety of activities designed to enhance their STEM (science, technology, engineering, art, math) skills while promoting social-emotional learning.
Two classes joined into one to participate in the "May the 4th Be With You' Star Wars theme.
"We wanted to engage the students, and give them physical as well as mental activities to get them moving, get them thinking, and encourage them to work together," explained Christine DePascale, whose class was combined with Stephanie Collier's.
For example, students were challenged to find the unit rate of their own activities. They determined how many jumping jacks they were able to do it a certain amount of time: number per minute, per five minutes, etc.
For the STAR WARS Legos challenge, students called upon to build traps for storm troopers. Each trap had to be designed and constructed to fit at least one storm trooper.
They also incorporated math into bowling by keeping score and figuring out percentages.
"They collaborated and worked together to come up with answers and determine solutions," explained Stephanie Collier. "That's an important skill they will take with them way beyond the classroom."