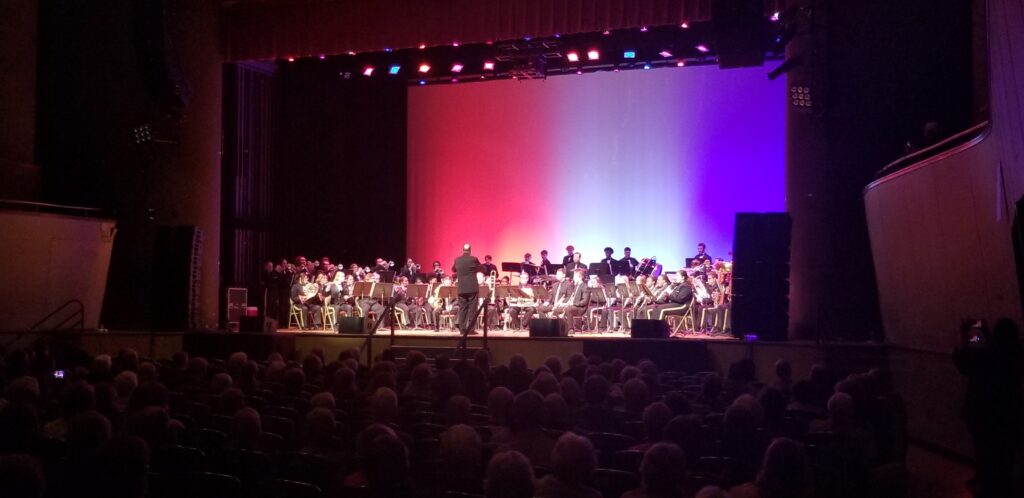 The Warren G. Harding High School Symphonic Band was selected to perform on stage with Dallas Brass Nov. 9 at Packard Music Hall.
The Harding band joined the ensemble for the selection "American Tableau. "The Dallas Brass performance was part of the Warren Civic Music Association's 2021-22 concert series.
Members of Dallas Brass also spent some time earlier in the day working with and performing for students at Warren G. Harding High School. Several of Harding's Symphonic Band members received some pointers on performing in small ensembles. 
During its travels, Dallas Brass often selects a local high school band from the community in which the ensemble is performing to join the group on stage. Harding students previously appeared with the ensemble at the Packard during a concert in 2015.
Dallas Brass has toured extensively across the country. Founder and artist director Michael Levine said the ensemble seeks to entertain while also educating and inspiring young musicians.  Dallas Brass has worked with some 300,000 students in more than 2,500 concerts, rehearsals and clinics since the ensemble's inception in1983.