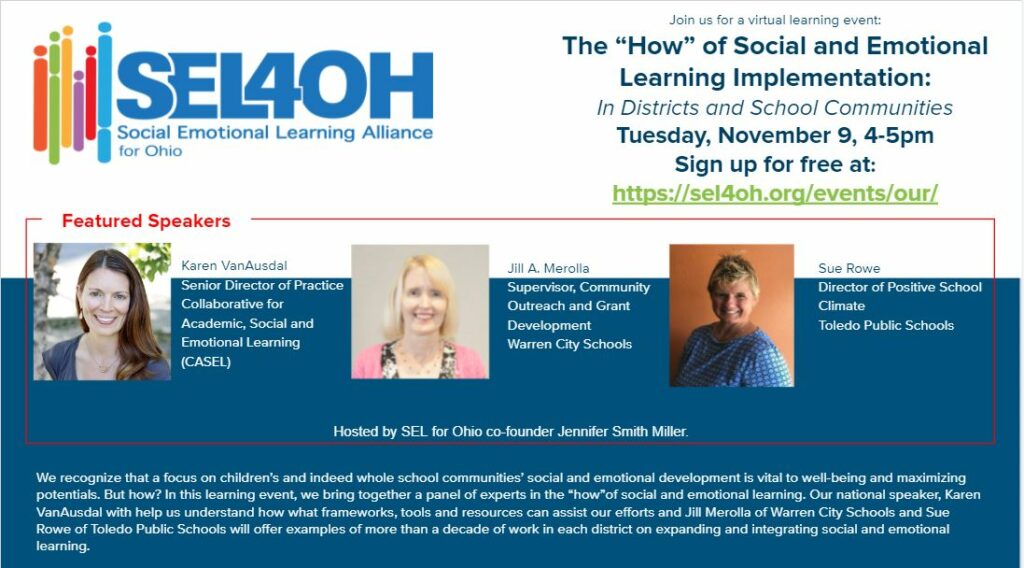 We are pleased to announce that Warren City Schools' Jill Merolla, Supervisor of Community Outreach and Grant Development, will be sharing information about the district's Social-Emotional Learning Programming during a virtual learning event Nov. 9 with SEL4Ohio (Social Emotional Learning Alliance for Ohio).
We recognize that a focus on children's, and indeed whole school communities' social and emotional development, is vital to well-being and maximizing potentials.
Ms. Merolla, along with Sue Rowe of Toledo Public Schools, will offer examples of more than a decade of work each of their school districts has done to expand and integrate social and emotional learning.
The program, "The "How" of Social and Emotional Learning Implementation: In Districts and School Communities," will also feature internationally known speaker Karen VanAusdal, who will discuss what frameworks, tools and resources can assist these efforts.
In her 35 years in education, Ms. Merolla has worked as a
teacher, an elementary and middle school principal, and a central office administrator. Among her many current roles, she is the Program Manager for the CASEL Skills for Life Initiative brought to the District in 2010 by U.S. Congressman Tim Ryan. Ms. Merolla continues to be responsible for the initiative's funding and the District's SEL training of over 450, PK-12, teachers.