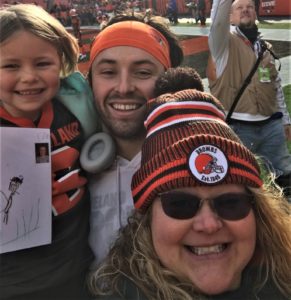 Through a social media post, Brandi Gazso, a kindergarten teacher at Lincoln PK-8, made it possible for one of her students to meet Cleveland Browns quarterback Baker Mayfield.
Ms. Gazso posted photos of student Cloie Jones in a Mayfield jersey and shared that she is the "BIGGEST Baker Mayfield fan!" – talking about how much she likes him – so much so that she has earned the nickname "Cloie Baker Mayfield" among her classmates.
Ms. Gazso's tweet went viral and caught the attention of Mayfield's wife. As a result, the Mayfields invited Cloie to a game, where she, accompanied by Ms. Gazso, received a few presents and got to meet her hero.
Ms. Gazso's efforts to help make a Cloe's's dream come true – a story that has now been shared among news outlets locally and statewide –  is one more example of a Warren City Schools teacher going above and beyond for a student.
#GoRaiders #WCSTeachersRock #WCSGoingAboveAndBeyond #WeAreWarrenProud #WCSProud