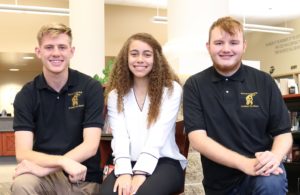 Three Warren G. Harding students have been selected as 2019 Twenty Under 20 Winners.
Cullen Faulk, Elyssa Hawkins and Xavier Allen were selected by the Tribune Chronicle as recipients of the newspaper's longstanding program that recognizes 20 high-achieving individuals younger than 20 years old for their leadership skills through volunteerism, extracurricular activities and academic achievements.
The program, in its seventh year, is co-sponsored by Akron Children's Hospital Mahoning Valley and Kent State University at Trumbull.