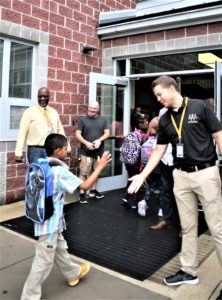 Members of 100 Community Men of Warren and volunteers from various organizations joined school leaders as they greeted and cheered for students the first day of school.
The effort, led by Pastor Todd Johnson of Second Baptist Church in partnership with the United Way of Trumbull County and Warren City School District, brought volunteers from various organizations to Warren G. Harding High School early the morning of Tuesday, Aug. 21. Volunteers then headed to the district's four PK-8 Schools – Jefferson, McGuffey, Lincoln and Willard – to greet students attending those buildings.
This year marked the second for 100 Community Men of Warren to participate in the United Way's ongoing effort help the district kick off a new school year.